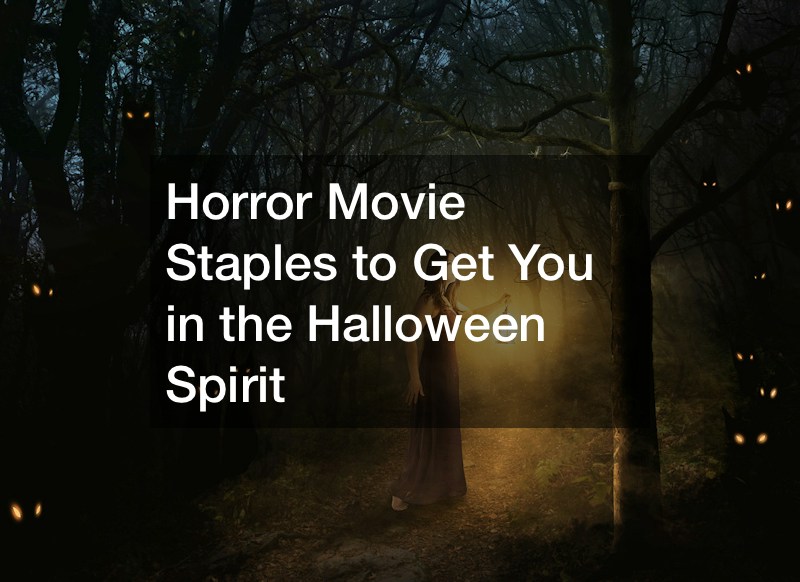 Horror Movie Staples to Get You in the Halloween Spirit
'Tis the season for the scare that keeps on giving. That is the Halloween spirit, a holiday where the word "spirit" has so many implications. This is the one day, and the one season of the year, where ghosts, goblins, and vampires become a reality and part of everyday life. It's okay in October to enjoy a little bit of supernatural fun. One way that many everyday citizens enjoy this season is by stocking up on horror movie staples for a night of scary fun with their favorite people they want to cling to. If you're reading this, you're no exception. When you are preparing your movie night, be sure to put at least one of these horror movie staples on your list of supernatural adventures in film.
Dagon (2001)
Dagon is a 2001 film that will have you wishing for boat maintenance from minute one. In this film, a boating accident sets the tone for the entire supernatural experience where a sea god comes to life as a half-human and half-something else. Directed by Stuart Gordon, this film is based on a short story written by H.P. Lovecraft and Dennis Paoli stars Ezra Godden and Francisco Rabal will make you think this could actually happen to you. This is a movie where the truth has paranormal consequences.
The movie starts with the character of Paul who experiences a boating accident near Spain. It comes with a requisite girlfriend and is set in a fishing village that is designed to give you nightmares. After the sun goes down, people in the village begin to go missing, and the half-human form becomes known as the source of all evil in this story. Our protagonist Paul is accused of committing dastardly deeds on the town and spends his time running from these frightening accusations.
This film was first tested on theater audiences in Spain in 2001 and later went on to the big screen. It was not a huge hit at the box office and barely grossed over $150,000. It also came with mixed reviews that nodded to the horror movie staples community that like a good scare even if production is not the best quality for Hollywood. It is cited as unrealistic but true to the original story crafted by H.P. Lovecraft.
It (2017)
From the novel It by Stephen King, the film makes Pennywise a household name and everyday vernacular for people who want to refer to an entity that will keep you up at night in fear alone. That is the marker that puts It on the list of horror movie staples. This is a film that keeps on giving. It has production of a good budget and a cast that keeps you guessing. Directed by Andy Muschietti it stars Bill Skarsgard, Jaeden Martell, and Finn Wolfhard and has you creeped out from the first frame to the final.
It was Warner Brothers that brought this story to the big screen and it is said to be the first of two parts adapted after Stephen King's story set on the quiet eerie streets of Maine. The film only covers half of the story that Stephen King told us, with It 2 arriving on the big screen in 2019. This iconic item on the list of horror movie staples will have you wondering how often sewer line repair occurs in your town too.
It is the story of a Losers Club where seven children are scared by a being that lives in the sewer. Pennywise is the entity that lives in the sewer and preys on the fear and fantasy of children afraid of the dark, or anything. Pennywise prides itself on feeding off of children's fear, hoping he can kill little children by scaring them to death. Then, from the streets of Maine in 1989, they go missing.
Devil (2010)
Some say Halloween is the devil's time to play, making the 2010 film Devil a must-have for any horror movie staples list. In this creepy tale, the devil is on an elevator where many others are stranded. Directed by John Dowdle and starring Chris Messina, Caroline Dhavernas, and Bokeem Woodbine, the movie is scary from beginning to end. Originally titled The Night Chronicles 1: Devil, this is a supernatural horror flick that has five strangers in an elevator praying for elevator repair the entire time.
As with any good movie titled after Satan, this one will begin with a verse from the Bible. A man we can not see will narrate a tale from his childhood that depicts family wisdom where he was told the devil roams the earth to inflict terror on human beings. The plot includes a skyscraper suicide and a note about Satan's impending doom. Trapped in the elevator hearing about this tale are everyday humans including a marine, a security guard, and an older woman with keen insight.
The film conjures a lot of philosophical conversation, making it an ideal item for any horror movie staples list. The audience is forced to ask themselves, does the devil roam the earth to torment with evil, or to evil? It comes from an adaptation of a story written by horror writer Agatha Christie's novel "And Then There Were None." In her story, the strangers die one at a time.
Scream (1996)
The movie Scream is a must-have for your horror movie staples list as it is considered one of the most famous and scary movies of all time. This comes with a cast including Courteney Cox, Neve Campbell, and David Arquette, and sprung life to sequels that made the Scream audience very happy. With the first Scream out in 1996, horror film audiences were introduced to tighter plot lines and a supernatural element that makes you think this could actually happen to you.
In this film, it starts one night when a young woman answers her phone and is forced to answer questions about the scariest movies in the world. She flubs and learns that her boyfriend's life is at stake if she gets it wrong. This happens one year after she has grieved the loss of her murdered mom, an incident that makes her think this trauma could happen to her again. Then it does.
Labeled as a typical slasher film, you aren't going to see a criminal defense lawyer in this one. This is a serial killer blood and gore film that grossed over $173 million at the box office, and was one of the most successful films of its year. With a budget of only $15 million, Scream producers knew a hit when they saw one. The audience did too.
Pet Sematary (1983)
A list of horror movie staples is not complete without some nods to one of the greatest horror writers of our time, Stephen King. Cue the Pet Sematary film from 1983. This film is so scary that it has been said this is the scariest thing Stephen King ever wrote, in his own opinion. It was inspired by personal experiences about a pet cemetery in Maine, Stephen King's stomping, and original writing grounds.
Stephen King was a writer studying at the University of Maine when he wrote this fur-raising tale. His home was near a highway that was known to be the final resting place of many cats and dogs in the area who would never see an animal hospital in their final hours. He had an idea one night of what would happen if those animals came to life. And today, you can visit the Pet Semetary where he wrote all of those thoughts down.
The Shining (1979)
The Shining is a 1979 item that belongs on every horror movie staples list. This movie makes doors creepy, and everything in front and behind them as well. Directed by Stanley Kubrick and starring Jack Nicholson, The Shining is a story of an alcoholic who works at a hotel as a caretaker, played by Jack Nicholson. The caretaker has a son with psychic abilities who is the shining in the story.
The son, Danny, has an imaginary friend that will make you wonder about every imaginary friend you've ever heard of. The sanity of the caretaker begins to dwindle as events unfold that spin this tale that has since been listed in the top 100 movies of all time. It has also been listed in the United States Library of Congress as being culturally significant. If that doesn't leave you wondering about the psychic world and how serious it is perceived with the greats, nothing will.
Return of the Living Dead (1985)
The Return of the Living Dead from 1985 is on the list of horror movie staples as an iconic zombie hit that will leave you wondering about the effectiveness of your local crematorium. Can the dead come back to life? This film says yes they can, and do. Directed by Dan O'Bannon and starring Clu Gulager, Games Karen, and Don Calfa, this film is half horror and half comedy and part philosophy.
Some of the events here were based on true stories. We have a medical supply warehouse that breeds fear and horror. The chemical in question that puts everyone's life on the line is based on a true chemical made by Darrow Chemical Company for national defense in both Canada and the United States. It didn't do badly at the box office either and grossed $14 million in the United States alone from a $4 million budget.
The Evil Dead (1981)
The Evil Dead from 1981 tells the story that you've wondered about all your life. What happens when something bad happens to friends in a cabin in the woods? This film happens. Directed and written by Sam Raimi, The Evil Dead makes the supernatural almost believable in a story where the horror keeps on going one frame after another. The friends in this story find a tape recording that unleashes fears of demons and spirits and a wide range of regrets.
This is a story that has you wishing for the nearest tree removal company as there are shadows and darkness behind every limb and tree trunk. It grossed $29 million across the world and is considered among the most popular cult horror flicks in the world. This film would launch the career of Raimi whose work would later be seen in the Spiderman series.
The Thing (1982)
The Thing from 1982 is a great item for the horror movie staples list. Put on some firewood and snuggle up with your favorite person and Kurt Russell. This is a film that made science fiction film interesting to the everyday moviegoer. Directed by John Carpenter it is a story about scary things that happen to researchers in Antarctica. The scary thing that is found in this strange land is a being called the Thing that imitates anything that it can.
Many people called this story one of junk and nonsense, but it grossed over $19 million across the world. It had a hefty budget with more than one million being spent on building The Thing which would make any horror audience cringe. It was adapted from a 1951 novel and went through a series of director changes. In the end, it is not the most popular horror film but is one that will make you wonder.
It Follows (2014)
It Follows from 2014 is a scary story that begins with a sexual experience gone wrong. This sets the stage for fear throughout the entire movie. Directed and written by David Robert Mitchell, the film starting Maika Monroe did get some good reviews at the Cannes Film Festival that year. After a sexual experience goes wrong, the protagonist of the film is followed by supernatural spirits and forces.
The movie which started with a $1 million budget did well and grossed $23 million worldwide. This is another thinker that will have you diving into a swimming pool to cool off and forget what fears can exist in your own mind. It is added to our horror movie staples list for that reason alone.