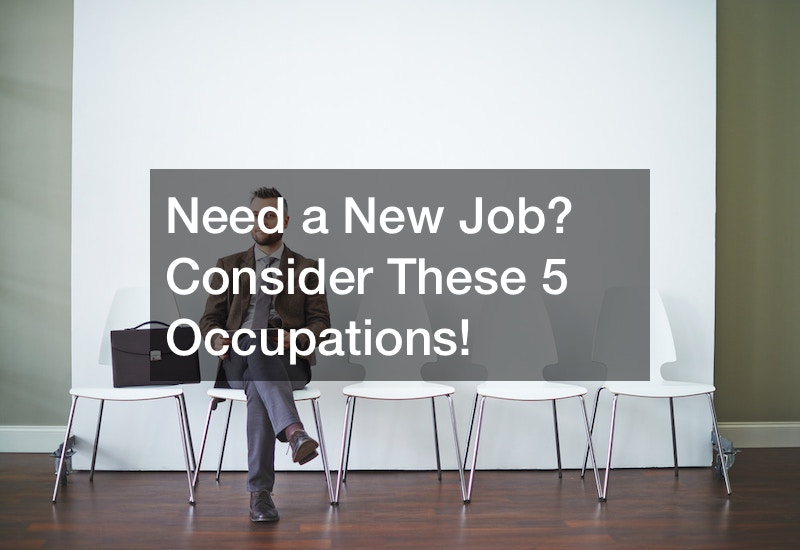 Need a New Job? Consider These 5 Occupations!
It's natural for people to lose their interest in a career that they used to like as time goes by and want to get a new job. This may be a result of discovering that the said career is not all that they thought it to be when they started, feeling that the job is no longer challenging or beneficial to their personal growth, or even developing a new interest. In this case, you may be wondering about what career options you can choose from, which is the right question to ask before you leave your current job to start another one from scratch. The options are practically endless, with new careers being born every so often as a result of evolution in technology and other things like that. Read on to see five of the occupations that you might want to get into so that you have an idea of some of the options to choose before you leave your current situation in search of a new job.
1. Metal Fabrication
The first option to think about when considering moving to a new job is metal fabrication. Also called metalworking, this job will generally see you shaping and forming metals into equipment parts, tools, and other useful objects, and even structures. There are various categories that metalworking projects can be placed under, and these are molding, casting, welding, and cutting. This is one of the oldest careers in existence since people have been fashioning various things from metal for a good part of their existence. As such, modern metal fabrication still relies on metalworking techniques that were used long ago, at least to some extent.
You may like to get a new job as a metal fabricator if you typically enjoy knowing the details behind how things work or you're drawn to mechanics in general. As a metal fabricator, you'll get to work with your hands, get creative, and join a team to create something beautiful and useful. There are many details that go into something like making stainless steel products so you can choose the specific designation that sparks your interest the most. You're going to need to get some training so that you have a good idea of how to start. By the end of a course and an apprenticeship, you should be able to offer amazing steel fabrication services, even if just at a basic level.
While you're typically going to work indoors as a steel fabricator, this is a career option that beats a regular office job. That's because even a basic project is likely to call for creativity and working manually depending on your designation at your new job. If you can learn about the basic details of metal working fast, you have a great chance of landing a new job in record time in a similarly short period. Once you're in, you'll learn even more about the details and soon become an expert on things like the various applications for steel castings.
2. Jeweler
Perhaps you prefer to be surrounded by luxury and beauty while helping people find or fix accessories to pair with various outfits or that they can wear to an occasion. If this is the case, you should consider becoming a jeweler. As a jeweler, you'll specialize in designing and making jewelry using various materials. These include rare metals, stones, and other materials. For instance, you may be tasked with designing a gorgeous diamond floral bracelet for a bride-to-be or even a celebrity at your new job once you get the training you need.
To excel in your career as a jeweler and enjoy your new job, you should have skills in techniques like stone setting, metalworking, polishing, and engraving. These are all details that you're going to learn about from a professional in the field. You can look for one in small independent shops, businesses owned by entrepreneurial jewelers, or at big retail jewelry stores. Every single piece that you make should be high-quality and meet various standards of both function and appeal. To this end, you should be ready to work on transforming raw materials into finished pieces, replacing lost gemstones, resizing rings, repairing damaged jewelry, and even performing routine maintenance on jewelry to keep it in the best shape.
Other roles that you may serve in this career and based on your specific designation include helping customers make the right choices, looking into the details of various raw materials. evaluating their worth, and valuing various types of jewelry. If these tasks sound intriguing to you, you may thrive as a jeweler. You need to have a high school diploma so that you can join a trade school to further your education in this field. In addition to learning about the manual aspect of jewelry-making, it's a good idea to also learn basic computer skills so that you can learn about computer-assisted drafting and even business. In the end, this is sure to give you an advantage in the field.
3. Teacher
If you admire teachers and have been told by the people around you that you'd make an amazing one, why not choose this for your new job? Your roles may include inspiring learners, imparting a healthy curiosity in learners, researching various strategies for both learning and teaching and creating learning experiences that are meaningful and fulfilling. To do this, you should be able to lead a classroom and give them directions that they understand and that they can work on. You also need to be able to deal with students who have different personalities as well as those from varying backgrounds, skills that can make your new job doable and very rewarding.
Before you can consider becoming a teacher, you should have a bachelor's degree, pass a criminal background check, complete an accredited teacher preparation program, and get a given number of scores on various skills or subject matter tests. These are the main details that can improve your odds of getting a new job at a private preschool or other school. Keep in mind that the necessary requirements may vary depending on the specific grade level at which you'd like to teach. This way, you can pursue the necessary training and get a job that you'll do passionately because it's one that you'll love.
Some of the skills that you should have as a teacher include working with people in a team or as a leader, being attentive to detail, the ability to communicate clearly and concisely, and having a good work ethic. If you'd like to work with children at the most basic levels of their lives in a private kindergarten or elsewhere, you'll also need to have more skills or undergo specialized training. This is going to ensure that you're well-armed to handle a number of scenarios that may come up during your teaching. Some of the benefits that you can expect for your hard work include health insurance, paid leave, opportunities to develop professionally, retirement plans, and more as you could be funded to further your education.
4. Coach
More and more people are realizing that they may not have the necessary tools in terms of skills to help them live a life that they love, earn as much money as they'd like to, and generally become the best version of themselves. This is where a coach comes in. With their skills, training, and experiences, life coaches can help people find the right path to take in their lives. If you've got it together and are good at helping the people around you improve their lives in one way or another, then you should consider getting a new job as a life coach. This career is generally focused on helping people develop in both personal and professional aspects.
Keep in mind that while therapy also helps people improve their well-being, one key difference between a coach and a therapist is that therapists must meet educational and licensing requirements in order to operate legally. This means that while a therapist can offer clinical mental health care, a coach shouldn't do so because they don't have the training and general background to do it. If you get a new job as a coach, you should expect to help people identify their strengths, passions, and values, and help them to align these with their relationships and career. While a coach is not required to have any education, training, or license to practice, you can be sure that having these alongside soft skills can go a long way toward giving you more credibility. As such, you can become one of the best business coaches for entrepreneurs around if you have education and training on business, or you have a successful business of your own.
Some of the soft skills that you must have in order to thrive as a coach include being an active listener, coming up with strategies to help each client meet their goals and aspirations that are custom-made for each client, and supporting clients to meet these goals and stay accountable. In this career, you'll come across terms such as a ' movement coaching session' and more, so it's a good idea to take some time to learn the basics. Once you know them, you can specialize in a given topic such as relationships, health and wellness, life balance, leadership, spirituality, and even academics. You can either set out as an independent coach or seek employment from any of a number of agencies and businesses. The latter is the better option as it may be a bit difficult to start from scratch on your own.
5. Landscaper
Finally, you can get a new job as a landscaper if you love nothing more than working in the outdoors to create spaces that are comfortable, functional, and appealing. This could be either for a residential space or a business that wants to upgrade the appearance of their homes outdoors. This is a career option that generally requires a bit of education and lots of training so that you know as much as possible about various landscapes. Landscape designers typically work on lawn maintenance, pest control, planting, managing existing landscapes, and, of course, designing landscapes and the details of their features.
To qualify for a new job with a landscaper company, you need to have great attention to detail so that you can complete tasks efficiently and with precision. You also need to be good at staying organized, something that will come in handy when you have multiple jobs to handle. Don't forget that you need proper communication skills as these can help you communicate with the clients you work with as well as people with whom you may work as a team. To make sure that you can serve perfectly as a landscaper, you should also have ample knowledge about horticulture.
Other skills that you need are the ability to be creative and have a great sense of color and design. You should also be fit as this is a career that will often call for lifting heavy objects. In addition to these, you should be able to come up with solutions for various issues that might plague landscapes. With some training, you should also be familiar with and comfortable working in outdoor environments where the weather conditions may differ throughout the year. If all of these seem like details that either describe you or for which you'd be willing to work to attain, then you could look into starting out as a landscaper.
These are a few of the careers that you may want to look into if you're thinking about changing your career. You might already meet some of the requirements for a job that you feel you can do well and get amazing satisfaction from. That said, take your time to weigh your options and do as much research as is necessary so that you minimize the chances of regret after spending some time at your new job. Feel free to look into other careers so that you can live a fulfilling and satisfactory life.